Qualitative analysis of professionals' views on screening for esophageal adenocarcinoma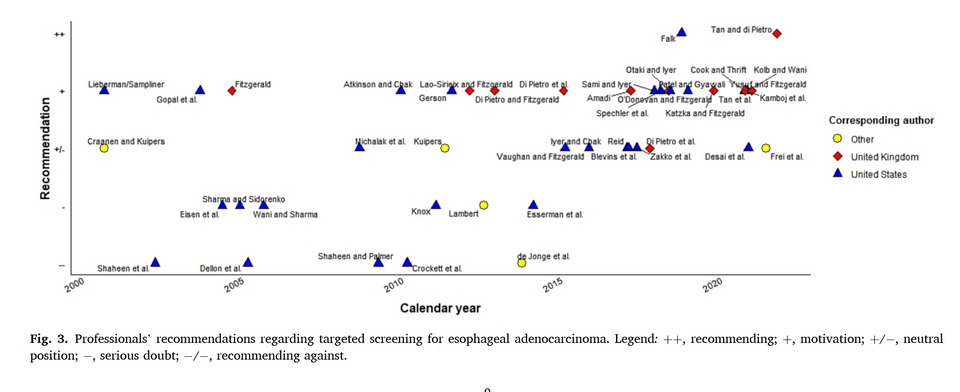 In this unusual and very in-depth review, Dr. Sijben and colleagues perform a qualitative analysis of professional's views on the justification for systematic screening for esophageal adenocarcinoma (EAC), a topic of much discussion. The findings suggest that professionals in the field are increasingly supportive of targeted screening (as opposed to population screening) for esophageal adenocarcinoma (EAC). Their motivation seems to be driven by the introduction of less invasive screening methods and the potential for effective treatment of detected neoplasia. However, there are two major obstacles to the full acceptance of EAC screening among professionals. Firstly, there is a need to accurately identify the population at high risk for EAC, and secondly, there is a lack of favorable data on the benefits and harms of screening.
The review identifies several additional areas that need to be addressed, including determining the frequency of screening, selecting the appropriate screening test, managing non-dysplastic Barrett's esophagus, informing the public, and allocating sufficient resources. While most professionals agree that the burden of EAC does not warrant population-wide screening, there is growing belief in the possibility of identifying subpopulations at risk. This aligns with the new approach on cancer screening proposed by the European Health Union in 2022, which emphasizes risk-based screening.
Professionals' views on the justification for esophageal adenocarcinoma screening: A systematic literature search and qualitative analysis
Preventive Medicine Reports,Volume 34, 2023, 102264, ISSN 2211-3355
Jasmijn Sijben, Yonne Peters, Linda Rainey, Mejdan Gashi, Mireille J.M. Broeders, Peter D. Siersema
Abstract
Screening for early esophageal adenocarcinoma (EAC), including screening for its precursor Barrett's esophagus (BE), has the potential to reduce EAC-related mortality and morbidity. This literature review aimed to explore professionals' views on the justification for EAC screening. A systematic search of Ovid Medline, EMBASE, and PsycInfo, from January 1, 2000 to September 22, 2022, identified 5 original studies and 63 expert opinion articles reporting professionals' perspectives on EAC screening. Included articles were qualitatively analyzed using the framework method, which was deductively led by modernized screening principles. The analyses showed that many professionals are optimistic about technological advancements in BE detection and treatment. However, views on whether the societal burden of EAC merits screening were contradictory. In addition, knowledge of the long-term benefits and risks of EAC screening is still considered insufficient. There is no consensus on who to screen, how often to screen, which screening test to use, and how to manage non-dysplastic BE. Professionals further point out the need to develop technology that facilitates automated test sample processing and public education strategies that avoid causing disproportionately high cancer worry and social stigma. In conclusion, modernized screening principles are currently insufficiently fulfilled to justify widespread screening for EAC. Results from future clinical screening trials and risk prediction modeling studies may shift professionals' thoughts regarding justification for EAC screening.
© 2023 The Author(s).