Review of chemoprevention status for esophageal adenocarcinoma
Dr. Bill Grady and colleagues review the status of chemopreventatives for progression of Barrett's to esophageal adenocarcinoma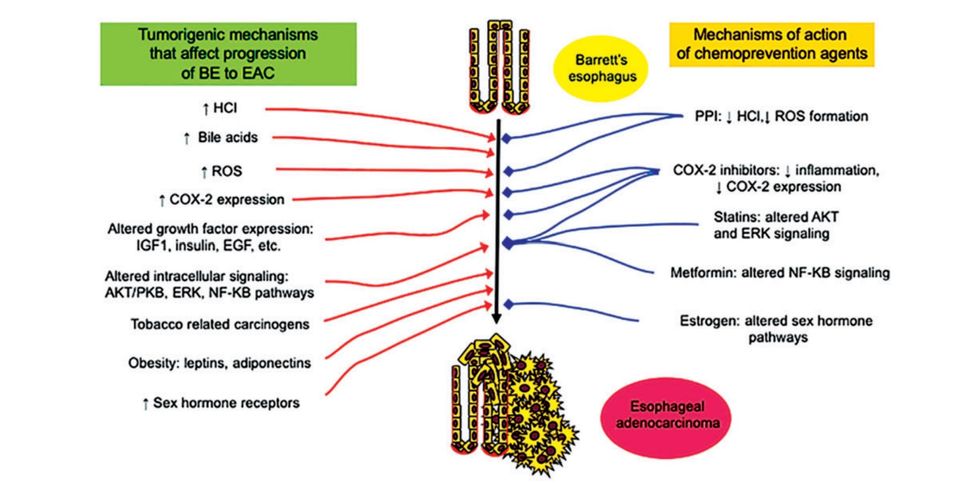 Gastroenterol Rep (Oxf). 2020 Jul 24;8(4):253-260.
doi: 10.1093/gastro/goaa040.eCollection 2020 Aug.
Chemoprevention of esophageal adenocarcinoma
Erik J Snider, Andrew M Kaz, John M Inadomi, William M Grady
Abstract

Esophageal adenocarcinoma (EAC) is a major cause of cancer-related death, particularly in Western populations, and is rapidly rising in Asian populations at this time. Virtually all EACs develop from the precursor lesion Barrett's esophagus (BE), which is the most significant risk factor for EAC. However, the rates of progression from BE to EAC are low and patients with BE are asymptomatic. Thus, any strategy for EAC prevention must carry a low risk of harm in order to be clinically useful. Since current EAC-screening and BE-surveillance methods carry some procedural risk and are burdensome, there is an opportunity for chemoprevention, i.e. medications or dietary factors that may prevent BE from progressing to EAC. A variety of candidate chemoprevention therapies have been assessed to date. Proton-pump inhibitors (PPIs) are the best studied and have modest EAC-chemoprevention efficacy in BE patients, with a recent randomized trial showing that high-dose PPI may be more effective than low-dose PPI. Aspirin and other non-steroidal anti-inflammatory drugs have moderate quality observational and randomized-trial evidence for preventing progression of BE to EAC, but their risks for harm have precluded their routine clinical use. Other therapies (statins, metformin, female sex hormones) generally do not have strong evidence to support their use in EAC chemoprevention. Although progress has been made in this field, there is still a need for more effective and safe chemoprevention therapies for EAC.