Significant updates to Barrett's screening, surveillance and treatment guidelines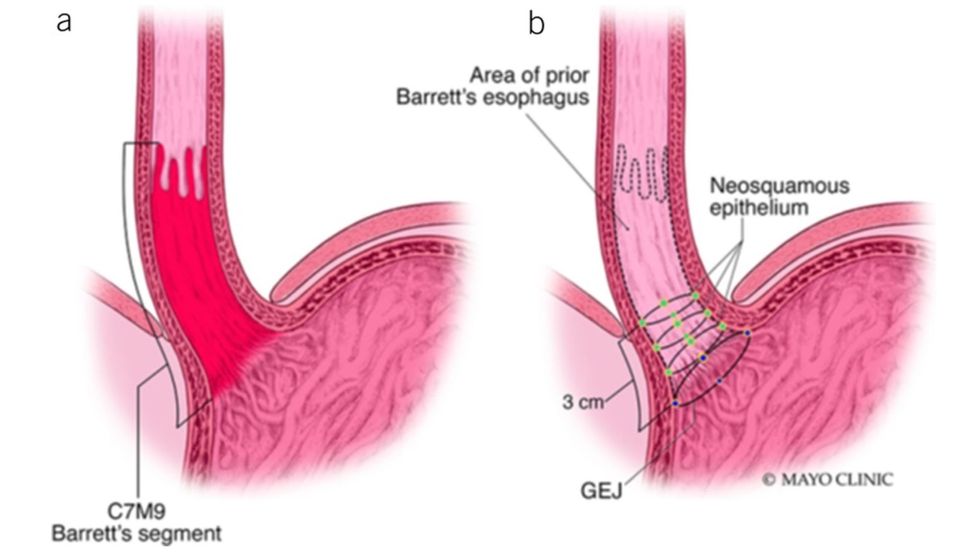 Important guideline updates include the recommendations for nonendoscopic screening methods, longer intervals for short-segment BE surveillance, and specific suggestions for post-ablation surveillance.
Am J Gastroenterol. 2022 Apr 1;117(4):559-587. doi: 10.14309/ajg.0000000000001680.
Diagnosis and Management of Barrett's Esophagus: An Updated ACG Guideline
Nicholas J Shaheen 1, Gary W Falk 2, Prasad G Iyer 3, Rhonda F Souza 4, Rena H Yadlapati 5, Bryan G Sauer 6, Sachin Wani 7
PMID: 35354777 DOI: 10.14309/ajg.0000000000001680
Abstract
Barrett's esophagus (BE) is a common condition associated with chronic gastroesophageal reflux disease. BE is the only known precursor to esophageal adenocarcinoma, a highly lethal cancer with an increasing incidence over the last 5 decades. These revised guidelines implement Grading of Recommendations, Assessment, Development, and Evaluation methodology to propose recommendations for the definition and diagnosis of BE, screening for BE and esophageal adenocarcinoma, surveillance of patients with known BE, and the medical and endoscopic treatment of BE and its associated early neoplasia. Important changes since the previous iteration of this guideline include a broadening of acceptable screening modalities for BE to include nonendoscopic methods, liberalized intervals for surveillance of short-segment BE, and volume criteria for endoscopic therapy centers for BE. We recommend endoscopic eradication therapy for patients with BE and high-grade dysplasia and those with BE and low-grade dysplasia. We propose structured surveillance intervals for patients with dysplastic BE after successful ablation based on the baseline degree of dysplasia. We could not make recommendations regarding chemoprevention or use of biomarkers in routine practice due to insufficient data.
Copyright © 2022 by The American College of Gastroenterology.